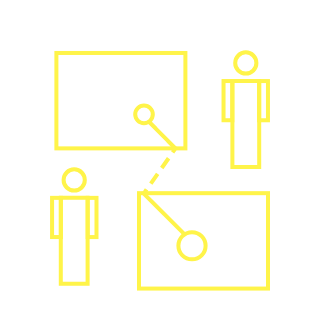 Digital image devices are diversifying from large high-definition displays to wearable terminals.
TECHNONET provides technical services to produce a new visual experience.
Interactive Video Production
TECHNONET provides a video presentation method, as a new image production method using a large image display, that interactively changes the image in response to the movement and movement of a person approaching the display.
In order to effectively convey the message to the place where many people gather, such as the stadium and the event venue, we analyze the camera image attached to the display and generate graphics in real time. This is a new production method from the fusion of video and information that attracts people.
Digital Video Entertainment
TECHNONET is developing new video entertainment with digital technology by combining new expression techniques such as ultra high definition panoramic images or 360 ° images with live viewing, projection mapping, VR (Virtual Reality) and MR (Mixed Reality) as a method of those new expression techniques.
New experiences realized with diverse video devices and high-speed network environment are created by technology power and creativity. TECHNONET is always looking for new technical services.
Achievements
TECHNONET produces exhibition images and graphics that attract visitors into various events. We propose from production directing to system design, video production, operation support for each event.
We also offer original services by combining technologies depending on the requirements, such as video presentation that users interactively participate in and environment production using live video.
Examples
Video for art exhibition/ Interview video of author/ High-definition documentary video/ Experience-based attractions/ etc.